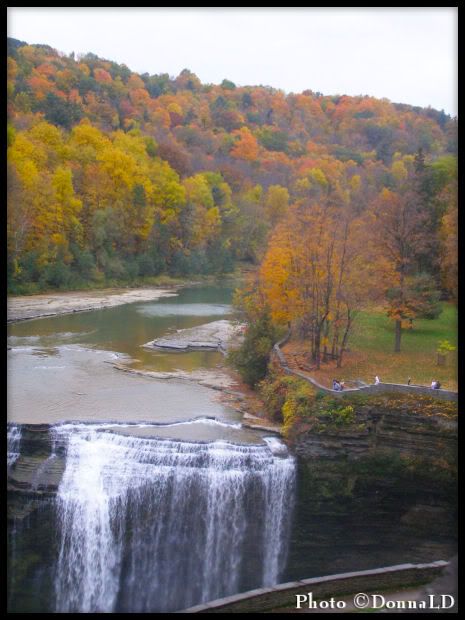 Hey folks, hope this finds you all doing well. Between work and getting ready for the wedding next Saturday I've been busy. Real busy. It's a good busy but maaaaaaaaaaaan! I thought I'd add some more pictures from the day at the park. With Dad unable to walk like he use to, hiking was not part of the day. We walked but we did not climb up or down so some of these shots are on the ledge looking down. I did think about taking the trek by myself to get better angles, but I didn't want to make everyone else wait on me.
The old railroad bridge goes over the gorge and is actually to the right of the falls. I suppose combining the two shots would give you some of the full effect. It's a beautiful area :)
Oh, how 'bout having dinner here? Isn't the view fabulous? I'm always amazed at how the trees grow out of the slate on the side. Makes a bit of a dramatic effect when you see it live.
I love this shot! My only wish was that the road wasn't so clean. I think a few leaves covering the blacktop would have added a wonderful touch!
I spent endless hours today in between running and chores trying to migrate my journal. This is almost becoming an obsession, LOL. Actually today I did a lot of thinking. I posted a comment in

Magic Smoke

the other night. Ok, I've posted several there as well as on the blogger help site. To say I'm disappointed is an understatement. I'm downright pissed off. Not so much because I can't get my journal to migrate over here, but the way both services have treated the situation. Not just with me but with others as well. The condescending responses about how 'easy' it is. How only a handful can't get their journal over to blogger. I could go on, but you all know already. I've asked point blank questions regarding the size of journals, and if mine was just to large. There was mention of embed images and image tags. What does that mean? I know 95% of us used the same methods to put pictures, graphics, and video's in our journals. So what does that mean? Tell me, maybe I can delete something to make it go. But no. I don't get answers I get the typical canned response if I get anything at all, 'we are working on it.' Why can the questions not be answered? Why are they being ignored as though it has not even been asked. Just tell us. If we can't get our journals over fine. I won't waste anymore time trying. If I need to remove something tell me, I'll do it. I grew up with the motto, 'honesty is the best policy.' The treatment I've received (along with others) is horrible. I am not an internet idiot, talk to me, tell me the truth. Don't treat me like I am some lazy jerk who wants to sit on my ass and have someone else do it. Like I haven't tried every possible thing. In the beginning I was told blogger couldn't get it either, so they know it's not me. WTF!?!? Needless to say I feel like a lemming. I followed here to blogger because of the promise to have my journal moved. To be helped with the situation when it didn't work. Now I get treated like some spaz, if I'm treated at all. I've read comments and concerns that have gone unanswered completely. Is that how you help folks???? I'm not real happy with it and I am seriously contemplating going to another blog site. I can start fresh there as I have here and not be treated with such little respect. Being talked to like a child. They are a dime a dozen and it is painfully obvious neither service cares where we end up.
I know it probably sounds like I'm whining, and maybe I am. I'm tired, frustrated, and angry. The loyalty we gave AOL during all the bullshit they put us through, all their issues, and now they treat folks like we are incompetent boobs. I'm hanging out for a bit they still have a few days in my eyes, but not many. It's been over 2 weeks and still no answers and no honesty. I've been patient and did my part. When will these services to their part and be upfront and honest about what is going on? I'll keep you posted.....