My day at the park with my parents and younger sister was fabulous. The weather wasn't perfect, but time spent with each other was! My Dad has some issues with his health. Getting in and out of the car is not the easiest for him, but he wanted to go. I of course drove. Their car :) So I leave work early and get there about 12:15. He was on his way to the computer to make sure he had room on his camera. Mom wasn't thrilled that he waited until the last minute, but what difference does it make really? We have nothing but time. We get Dad situated in the front seat. He has a plastic bag on the seat so he can slide in easier. He is fairly tall, and the bad hip, bad knees, and his unsteadiness from Parkinson's makes it a bit difficult. Ahhhh so we are on way. Dad talks a bit lower these days and his hearing was shot until his recent purchase of hearing aides. What a difference they make!!! We need to get on the highway and it's pretty much on the way back to my house. I pull out of the drive and he tells me to make a right at the corner (as though I didn't know) Within seconds Mom repeats the direction from the back seat. I know no harm was meant and that she did not hear Dad. I pull out making the right and Dad tells me, 'left at the light.' Yeap, you guessed it, Mom followed with the same direction. I make the left and head down the street. It's broken off about half way with a stop sign. A sign I regularly see and stop at as that is how I get to their house each and every time. Dad... 'now there is a stop sign up here that is partially hidden by the leaves.' Uh huhhh.. mom repeats it. Ok, I throw my hands up and say, 'we are in stereo here.' No way I can drive over an hour with constant directions from both of them. Dad goes on to say, 'it's bad enough to have a back seat driver, but you got one up front too.' He's smiling. So I give it back, 'well if N (my younger sister) starts you're all getting out and walking.' He grins and reminds me it's his car. I grin right back, 'but I'm driving.' We all laugh and I explain to my mother that I know she can't hear Dad. But all was good, they stopped. LOL Well, with the exception of Dad letting me know each time the speed limit changed.
The ride was fabulous and view better. The trees on the hills were so vibrant. I wish the sun was out more, so the colors would glow, but it was good anyway. When we got to the park we drove around. Pulling over here and there to look out over the ledge. They call Letchworth the Grand Canyon of the East. Ok, so I don't know who gave it that name, but ..............
There is camping at the park so at one point we drove through the campground section. We found an empty spot, yes there were lots of folks camping! We set up a little bit of a picnic of snacks. Cheese, crackers, grapes, apples. We sat and chatted and took shots of the colors around us. We found some pinecones and Mom wanted a collection for her centerpiece at Thanksgiving. We walked around and collected tons. Then Dad got ansty and wanted to move on so we went.
I ended up with over 100 pictures. I won't bore you with them all, but rest assured you will still see more. I think a few in an entry is more then enough.
I am emotionally drained today. I was exhausted last evening and fell fast asleep the minute my head hit the pillow. Today I put in a full day at work and it was off to the hospital. When I arrived in the department waiting room it was full. Not all surprised, as my sister had a ton of friends, and I mean a ton!! After a few minutes of chit chat the lights flickered and they were about to start. The speech was magnificent and brought tears to my eyes. My sister worked at the hospital for over 20 years. In that time she was a supervisor and students passing through on their rotations were taught by her. She loved that part, and they loved her. Never a doubt. Looking around the room I saw tears, smiles, and at times laughter. It was such a wonderful tribute. They then brought out the plaque. My sister didn't design the waiting room, she didn't pay for it, but she was there always and still is. The plaque was beautiful and graced with a picture of her with one of the biggest smiles I've ever seen. As they walked by me with the plaque to hang it on the wall I got a good look at the picture. I chuckled right out loud between the tears. My brother in law picked the picture and let me tell you he picked a great one. I knew exactly where and when it was taken. Several years ago the girls (her girls) had a Halloween party at the house they rented while in college. My sister and brother in law showed up pretty much unannounced. Surely invited, but I will bet my pay check the girls never thought they'd show. Anyway the costumes were hysterical. My sister dressed like an electrical socket my brother in law, the plug. The picture was taken at the party as they posed. No of course you can't see the costume, or my brother in law, it's a head shot only, but the smile on her face and in her eyes was so her. It was perfect! And in some way it made the plaque even more special. Happy times... and for those of us that know the 'secret' of the picture ...... aaahhh we will always smile if not laugh when we see it.
The night ended great. My boys played tonight. They took on the NY Rangers who have started the season in great fashion winning all five of their games so far. We had won both ours. By the time I got home we were losing 1-0. OUCH! But our defense stood up and for over 20 minutes after the goal the Rangers didn't even have a shot on net. My boys.. well they kept on coming. Fighting for the loose pucks and taking advantage of the Rangers mistakes. We scored on the power play, we scored shorthanded. We scored 3 unanswered goals and went on to win 3-1. Whuuuuuuuu huuuuuuuuu yes there was pleasure there!!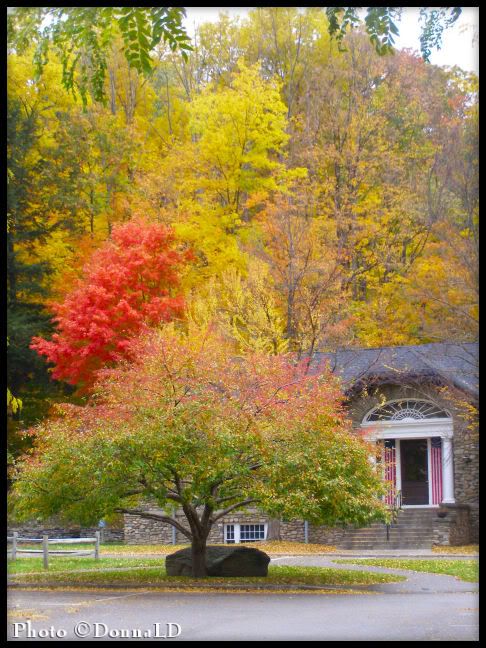 I've continued to try and migrate my journal over here. No luck yet. I've seen were some had theirs go all of a sudden today which is a good thing!! I hope it won't be much longer for my luck to change. Vish did answer my comment on Magic Smoke telling me it takes time and that I am one of only a handful of folks this is happening to. I know she is wrong there. I've been to bloggers help site, and I see the same thing over and over from folks I've heard of, and some I've never heard of. I've seen entries in both journals and blogs saying the same thing. So please if you are having an issue and haven't already let them know, go to Magic Smoke and tell them. Make them aware of the issues so they realize it is effecting more folks then they think. You can find a link to Magic Smoke on the top of every AOL journal. Currently I am watching entries pass by in the background as I try again. Just pass 50% on the download bar and hoping.............. hoping............... ok.. it bombed out again. File transfer failed. That makes 3 times tonight :(
I'm off to bed.. hope everyone is doing good.