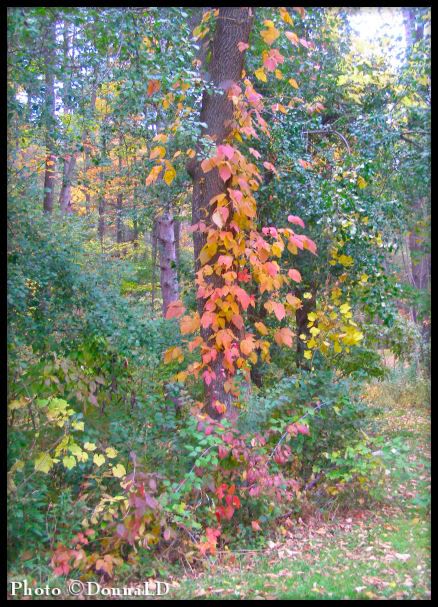 LOL, ok so those that know me may be saying a few words? I do promise this is the last entry of tonite. If you haven't seen the others, feel free to click on the 'home' link at the bottom. The entire blog will reopen and you can see all the entries. :::giggle::: if you dare.
More pictures from my outing the other day. I can't help myself, I want to share. I was so pleased with the shots I can't stop putting them up. Forgive me if you're bored.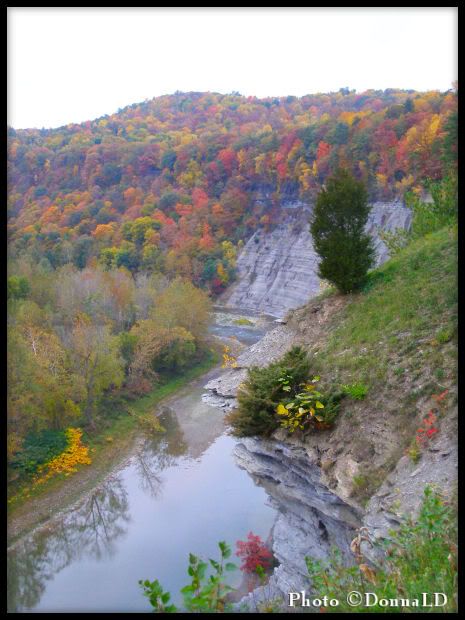 Not sure about this one. Did I lose the percpective of the ledge hanging out just off the side of the ridge? I liked the green there with the touch of red and all the different colors in the background.
Another view of the same falls. I really do wish I climbed down to get a shot from that angle. :( Oh well.
It may sound like a bit of a rant, but I don't mean it to. Just getting a few things out there... good, bad, or indifferent.
My disappointment in Blogger is not because I feel they should make my journal move. There are so many out there with the same issues. All I'm asking is for a direct answer to questions asked, an honest answer. Will I leave blogger and go to one of the other free blog sites? Maybe. I've not decided yet. I have a ton of emotions and thoughts running through my head I can't decide at this moment. In some way it depends on them (AOL and Blogger). Can they grow some knads and answer? Can they fix the issues? I've decided if they'd just answer I may just delete all my tag requests and snags and then try migrating again. My fear is it still won't go and then I've hacked my journal only to find they found a fix. Deleting those entries will take time and time is something that is running out.
For those of you emailing asking where my tags are... they'll be around. I would like to think you are here for more then just that. :::shaking my head::: but I guess I know better.
I've seen lots of mails and lots of entries on the way comments have gone down. Of course they have. Everyone is trying to get their new homes decorated. Trying to figure out google reader or dashboard. Some are spending countless hours of their computer time trying to get their journals to migrate over here. Don't fret. Continue to visit your readers, leave a comment, start to follow them, leave your url in the comment, you'll be found and before long you'll get the comments. I learned long ago that there are some who will not comment unless you comment on their blog. Sometimes it's that, sometimes it's content, sometimes it is a time issue. Make the rounds and give it some time. Hell, if everyone that followed us, commented on each entry we did we'd be drowning.. or would that be we'd be happy? :) I'd never expect that to happen ..... Just have fun and do your thing. Comments will follow.
K.... 'nuff on all that. Comment with your opinion if you'd like or if you have time. This week is going to be a bit crazy. Wedding plans and such. Lots of late work meetings, a hockey game, and yes trying again to migrate. In the meantime I will be around as much as time allows. Know I'm thinking of all of you and hoping things are well.