Yeap, I remember a day when I'd rush on to post pictures of any event... but to wait days to share 'bugs' birthday is horrible!!
So our 'bug' turned 7. Her party was Saturday and it was so much fun. Of course the friends came over during the day and had use of the bounce house. I actually wanted to get a balloon guy to come to the house. While my friend was in from Tampa we went out for dinner.. he was in the place and when done with all the kids I asked him for one. LMAO he made me a tiara and scepter. Let me just say we laughed our asses off and no doubt my friend and I were the entertainment. Not obnoxious... hmmm ok maybe a little but it was funny!! But alas.. got off the subject... he wasn't available. :(
The birthday girl in all her glory. She is growing up so fast. Her stories and one liners are by far the funniest. You see that she also got her Aunt Carrie in the bounce house. LOL Tooo funny! Carrie is my niece that got married back in Oct.
Sooo 'bug' got home from having dinner with her grand parents on Friday night. Her Uncle Eric had stopped with a huge cooler full of clams on ice. Ohhh to say she was happy was an understatement.
Even after a huge dinner she wanted to cook 'a couple' before she went to bed. Mom did talk her into waiting for her Uncle Eric.. and wait she did.... that is until they hit the table after being steamed. She fixes her own little mix on her plate. Me? Well I think she put too much hot sauce down so she cut it with butter.
Ahhhh and there she takes a bite. LMAO I think she ate 3 dozen herself. My tummy couldn't do that...
and doesn't. I don't like clams....... well casino yes but not steamed... they sit like rocks!!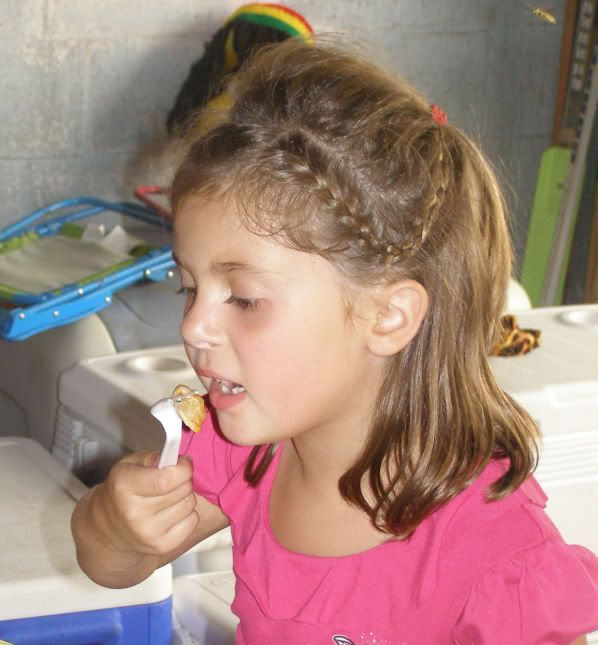 Yeap.. another tag. hehehehe Some of you may or may not know, but I'm friends with Elias Chatzoudis on facebook. I actually friended him so I could see his up and coming artwork and of course scope out other taggers work :) So anyway he came out with the football girls and I razzed him about hockey girls... not even sure if I posted this so I will keep it short. One thing led to another and we communicated privately... he promised to do at least one hockey girl. I was thrilled... but then I got greedy. He is from Greece, and I know at times the colors are off... so I sent him a link to a picture of a Sabres jersey. I knew he wouldn't be able to use the logo, but the colors... that's what I wanted. I felt bad after.. but damn didn't that precious man do it! LOL I was so excited and I told him I was doing a happy dance... hehehehe.. teasing he told me he'd like to see it. Sooo I promised him a video. NOOOOO I did not shake my bootie but I did thank him. So anyway... of course I jumped on the tube of the girl and added some color and a few pictures I took along with a video. I'm very pleased with it!!!
I have been messing with the football girls. Not all the colors will work and I am not sure I can do a Bills one, but I am playing around. I don't remember everyone's team but I have already started. I will post them here in a day or two. Hmmmm maybe more, I entered the Steelers one into a contest so I can't show it off or anything until it's over. Deadline is tomorrow so hopefully it won't take forever. I am not sure about tagging. Though the hard part is the tag itself, it still gets to be time consuming... either way something will be up .. a snag or an offer. :)
hugs
~d