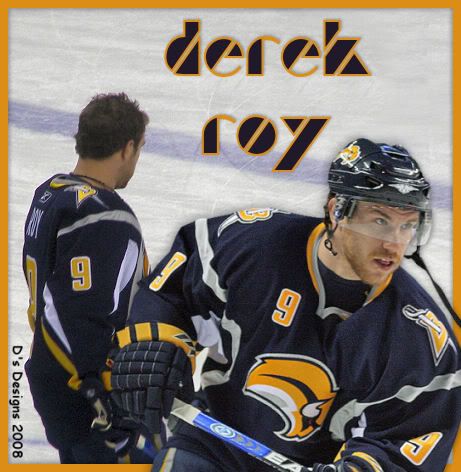 Holy Crap! They did it again. The boys came back to win in OT. This was a bizarre game to say the least. Playing the Wild in MN. Tough team to play against. They definitely play the trap and once they get the lead they are extremely hard to score on.
Dreeeeeeeeeeeeew scored again with about 5 minutes left in the first period. Pass from Roy, he turns to the backhand. Shoots it over the shoulder, top shelf where Momma hides the cookies. Buffalo up 1-0 at the end of one.
Not exactly sure what the hell happened in the second but the boys got a bit lazy. Didn't fight for the loose puck, back checking was horrible and they had waaaaaaaaay to many odd man rushes. Miller fought hard to keep us in the game but the boys got lazy attempting to help clear the puck out of the zone. Second period ends 2-1 with the Wild on top.
Twenty nine seconds into the third. Miller comes out of the net to clear the puck. Burns coming fast and hard. Ryan tries to clear the puck and it tips off Burns stick and into the net. The disgust and disbelief on Miller's face was evident. Damn it! So the boys are down 3-1. The noose gets tight. Trap, trap, and more trap. Gaaaaawd I hate that kind of play. Makes for boring hockey being played between the blue lines.
Time is ticking down. Four minutes left in the game. 'Cmon boys, fight hard. And they do. Mair is in front of the net and tips a slapshot into the net. Back in it. Score 3-2. Not 46 seconds later Vanek scores again. Whuuuu huuuu not only did he tie it up he scored in front of what some might say was his hometown crowd. He's from Austria, but has been in MN since he was 14. He helped the Gophers win their championship several years ago. His girlfriend is from there. Hmmm.. or is it his wife now? Either way the crowd loves him but not when he is scoring on their boys. Sooooooooooooooooooooooooo yeap you guessed it we are going to overrrrrrrrrrrrrrtime.
I run to the restroom and barely get back on the couch in a comfy position. Forty four seconds into OT, a scramble in front of the net. Roy scores ending the game. Buffalo wins 4-3. Yeah Baby.. that's what I'm talking about! Seven games and ::knocking on wood:: we haven't lost in regulation. Out of a possible 14 points the boys have 13. This without 3 of our starting centers and one of our horses on defense.
Brit... sorry 'bout the Bruins :( I was cheering for 'em I promise!!