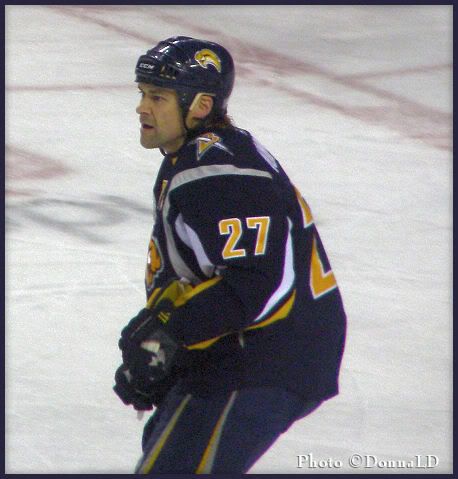 Ok, it should say we went to a shootout. You all knew it was coming, right? Yeap that game was last night and it was a blast. My co-worker got called out of town on business so he gave me both tickets. YEAH for me! Now that was a bet to win for sure. I took my son. It was so much fun spending the night with him. We tried to remember the last time we went to a game together. It's been awhile. You know how teenagers go through that stage... 'hang with my mother? Are YOU kidding ME??' LOL He's grown past that stage but our schedules aren't always the same. We did talk about one of the first games we went to together. Well, it probably was several in to sharing the game together, but they were work tickets and they were 4 rows from the ice at the old arena. He was a little tike and so excited to be sitting so close. The old arena was much smaller and you felt like you were on the ice. When the checks went into the boards the boom of the crash and the movement of the 'wall' made it feel as though they'd fall in on you. The players could be heard loud and clear. The look on my sons face as they dropped the 'f bomb' was hysterical and I can still remember how wide his eyes got and how he looked at me as tho to say, 'Mom they just used a bad word.' We laughed about that and I quickly followed up with, 'now you say it for them.' The smile was priceless!
Be ready for this. I left work and drove back to the 'burbs' to pick him up. As we made our way into the parking lot it was snowing. Yes I said snowing! It did not stick as the ground was too warm, but the white stuff was falling. It would be big flakes, then icey flakes. I couldn't help but have visions of the snow storm two years ago. 'Is it possible for this to happen again?' I hoped not as we hurried into the arena.
I decided to use Tep's picture first. It is so damn good to see him on the ice. You may remember the player that had to have heart surgery in the beginning of last season. That's him. He played one game last year, the last one, but came into this season healthy and ready. His steadiness on the blue line was surely missed last year and I'm glad to have him back. I'm glad he is healthy and ok!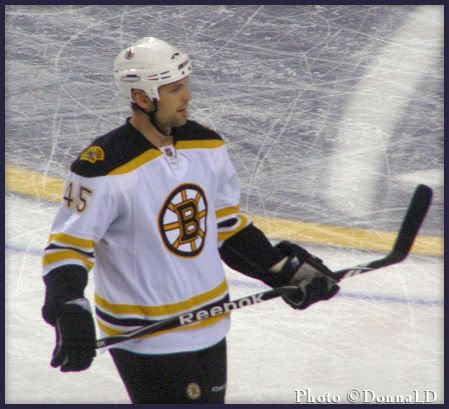 The game started a bit slow. The boys looked as tho they were skating in mud. I half expected Boston to come like that. They played at home the night before and no doubt had to be a bit tired from a hard fought game and then a flight to Buffalo. I don't care that it's a quick flight, that is a tough schedule to play back to back. Boston plays a trap type game. Clogging up the neutral zone and making it difficult for the opposing team to utilize their speed. Last night started no different.
About half way through the first period Wideman scored for the Bruins. The crowd got a bit quiet, and the boys still couldn't find their legs, but they played on. Trying to get into the offensive zone. It was tough and the period ended 1-0 and my boys were outshot something like 15-5. OUCH!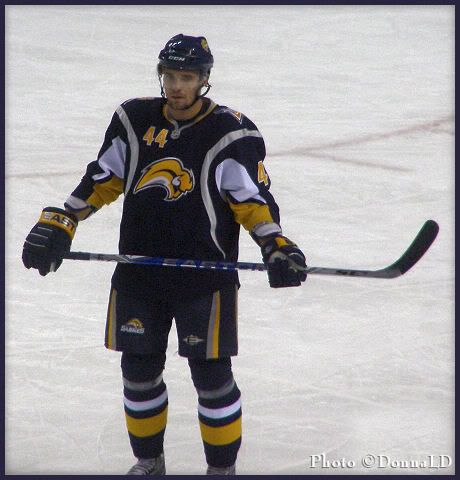 The second period was more of the same to start. With about eight minutes left in the period we took a penalty. We were the only team in the NHL that had gone this far without allowing a power play goal. I think it was like 24 attempts by the opponents. Kudo to the guys who are on the kill for holding their ground. It would be impossible to go an entire season with that record, but it was going to go no further.
Kessel scored and gave the Bruins a 2-0

lead.
Congrats Boston!
Well, that woke the boys up. You know what they say about waking the sleeping giant. Not that the boys are giants, but............ It was about 2 minutes later that MacArthur, while we were on the power play tipped in a shot. Passed Manny to bring us within one. The crowd erupted and the cheers went on for several minutes.
The goal definitely gave the boys life and they came to life. Play went from end to end with each goalie standing on their head.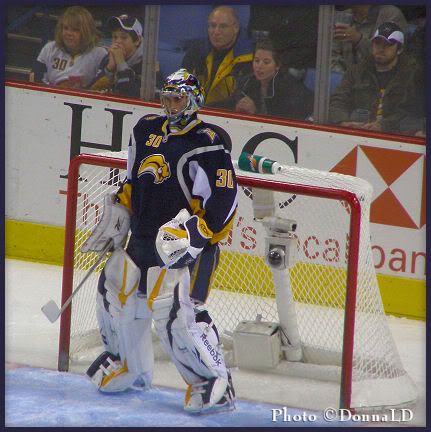 The second period ended 2-1. The crowd was buzzing, 'could the boys come back?' When the third period started it was like a whole new game. End to end skating, and chances on both ends. Six minutes into the third Derek Roy made a slight move that froze the Bruins defensemen, he passed the puck to Stafford (see number 21 below) and deeked and dunked. Got passed the dman, did a few little moves with the puck on his stick that froze Manny and then sent him to the ice. As Stafford crossed in front of him he had wide open net above him. SCORE! The game was tied. If there were Boston fans in the arena, which there were, you could hear them say, 'that was a wicked, sick goal.' It was! I guess Dreeeeeeeeeew decided his first goal of the season was going to be special. Well, that really isn't fair as he had scored in a shootout in an earlier game, but those goals don't count for their stats.
The rest of the third was pretty close in both shots and chances, but it ended tied at 2. Off to overtime we went. After a small break the teams play 4 on 4 for five minutes or until someone scores. It can be an exciting part of the game. Each team earns points at this time. Loser gets 1, winner gets 2. Twenty seven seconds left in the overtime period and we get a penalty. Now I'm not saying it wasn't a penalty but earlier there were several things by both teams that weren't called. It appeared the officials decided to put their whistles away and let the boys decide. It wasn't to be, we were going to be shorthanded for the remainder of OT. Defense was stellar and Miller stood on his head. The horn blew and we are going to a shootout.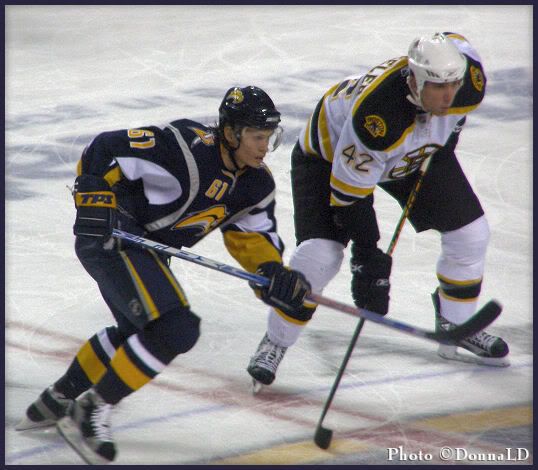 One on one. Shooter against goalie. I am not really thrilled with this portion. Sure it's exciting, but in my mind it isn't always fair. I don't think a game should come down to who has more talent on scoring. It doesn't work this way in the playoffs, so for a little more excitement during the season I'm fine with it.
It starts with 3 shooters per team. Whoever has more goals when those shooters are down wins. If it is still tied each team gets to try again. So the first 2 shooters go. Stafford scores again for Buffalo. Krejci for Boston. Krejci's shot went in and came out so fast it almost looked like Miller stopped it. Not to be. The shootout is tied at 1. Another shooter for each team, neither scores. Then Vanek (who has scored 7 goals in 5 games thus far is up.) He has really matured in the last year and has come into his very large contract... even if I disagree with how much $$ the players make. He comes down the ice and does an old move we've not seen in a while. He circles the puck with his stick causing the goalie a bit of confusion and uncertainty as to where he may be going. SCORE! Manny didn't even see it coming... or so it appeared. Boston's turn. Savard has to score to keep the game going. Miss and it's over. I'm not sure what he was trying to do. Miller appeared to give a move of a poke check, but I don't think he hit the puck and Savard lost control. Game over, Buffalo wins 3-2. Great game and both teams put their hearts on the ice.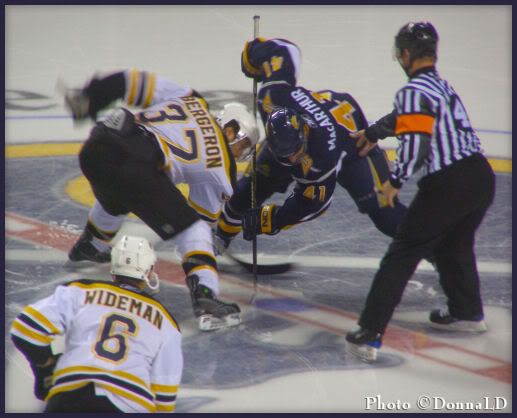 Brit... had I had more notice about the tickets I'd of contacted you to come. I swear! How cool would that have been? My gaaawd I think we'd have had a blast, and feel free to snag the shots you want you have my permission... just don't leave Chara out :) I think it's a leftover from when he was with Ottawa but each and everytime he touched the puck the fans boo'ed him. I know you don't find it funny, but I did as I sat taking pictures of him for you. LOL And you were right, Thomas didn't play Manny did.
It's tough getting shots as they move, and I've not mastered that yet. The speed is way faster then my shutter knowledge. That along with all the white........... I'll get better pictures as I do. Or at least I hope.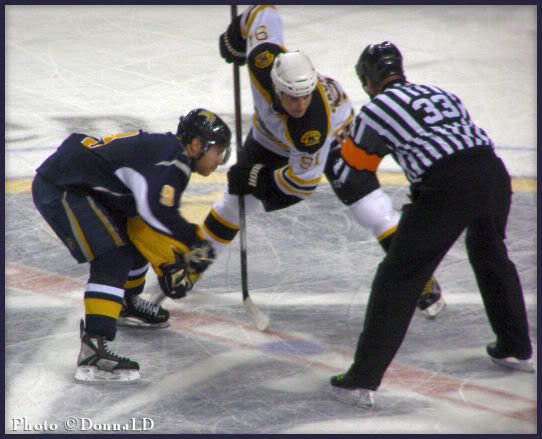 DREEEEEEEEEEEEEEEEEEEWWWWWWWWWWWWW congrats on that wicked goal!!!!
'nuff about hockey.. hope you enjoyed it as much as I did. I woke up with a sore shoulder this morning and it got more painful as the day went on. I used a warm/hot bed buddy after work and it seems to have helped. No idea what I did to it.. maybe slept funny. These pictures are from my camera, but I did get good news on the other one. I needed some drivers and software so my computer would recognize the camera and let me download the pictures. I got that today, but did not play with it one bit. I will do that tomorrow after work. Hopefully the shoulder will be fine.
Good news on the journal front. Or at least I hope so. Vish did respond on Magic Smoke after my last entry using the comments. Hmmm... think she is reading here too? Either way. Apparently they can't figure out what the issue is but are trying to come up with an alternative. Today I got an email from her asking for my blogger/google account info. Blogger will download my journal from AOL, tweak it, and then put it in into blogger format. Or they will try. She did send emails to several folks, so may I suggest if you are still having issues leave a comment over there so they can try and help you too. Apparently this will be done the beginning of next week. Cutting it close, but hopefully they will know quickly if it will work so I can do something if it doesn't. Again, this is not for me, but for all that are having issues so go over and tell 'em if you are. Then keep your fingers crossed it works.
Hope everyone is good and having a great week. Off to try and catch up with you all.