A couple of months ago I was having a conversation with a manager at work. Not my manager, but a manager. One thing led to another about closing a deal. His response, 'plan on taking me to dinner, it will be closed in 60 days.' I put my hand out, 'I'll take that bet.' Now keep in mind I'd much rather have the deal closed as it would benefit me tremendously, but with the work being done (or not done) on it I knew he'd never succeed.
Last week the 60 days was up, and guess what. Yeap, here I thought I was going to dinner. NOT. No he did not renig on the deal. He is out of town on business, and emails were exchanged back and forth. At one point after we narrowed down a day we'd both be available we tried to figure out where to go. I jokingly said, 'the Harbor Club.' :::big ass grin::: The Harbor Club is located in the arena and only open when there are events going on. This time of year you know where I was going. If the boys (Buffalo Sabres) were playing by default..... Next thing I know the day is changed and we are going to a game. Whuuuuu huuuuu
I'm stoked! I'll be in great seats to see the boys play the Boston Bruins on Oct 21. You know I will have my camera and extra lens with me :) We'll be sitting here. I know I will still have some netting to shoot thru but I do think with the extra lens and I can shoot towards the other net and not have it be in the way. Did I say I was stoked yet? No worries Brit, I'll try and get you a shot of your honey.
So yeah, I wanna bet!!!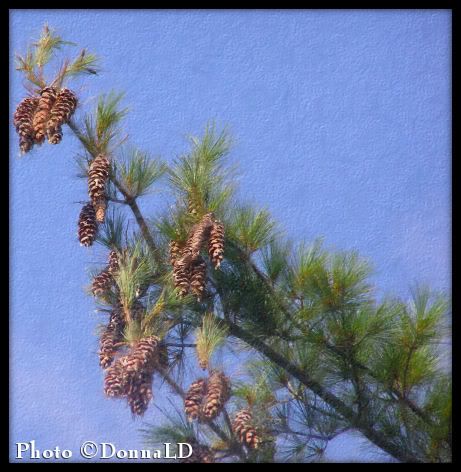 Took this picture a few days back while I was out and about. I loved the way the pine tree and cones were up against the blue sky. I played with it a bit in PSP and decided I liked the way it came out. Sort of a painting. Or not... my sister didn't think so, but call my imaginative ... or on drugs. I thought it did.
All here has been good. Busy as all get out. My workload has increased ten fold and I'm fried when I get home. I've been doing some graphics for work. Well, not graphics but editing some photo's and that is taking up some free time at night. Ummmmmmm, yeah, there is $$ involved. LOL
I also happened to go by Suzanne Woolcott's site and I just couldn't resist the girls on my header tag. I had to..... so I used part of the gift certificate I was given awhile back and purchased them. Keep tight I will get them in a tag offer :)
Mystery Blogger... I have a few new readers - thank you so much for stopping by ::waving:: I appreciate it. They, however, are not familiar with it. It all started over on AOL as a slight joke, trick. Anyway, folks joined in and now it is a regular (at least while I have pictures.) Folks have sent me a picture of themselves. Preferably an older one, along with a link to their journal, and a few hints. I post the picture with the hints and folks try to guess who is it. I then post the answer along with a link back to your journal. The results being that you get more readers/visitors. We've found it to be pretty funny, and a lot of fun. Feel free to join in.
Ohhhhhhhhh and the Bills lost yesterday. No, they didn't lose they got crushed. Three offensive plays in and our quarterback was knocked out of the game with a concussion. OUCH!! Good thing this is a bye week so he has a few extra days to bounce back. As I've said before, I knew they wouldn't go undefeated but 5-0 would have been nice. ::sigh::
I'm off to bed folks. Hope everyone is having a great day and good start to the week. Monday's ARGH!
Hugs
~d