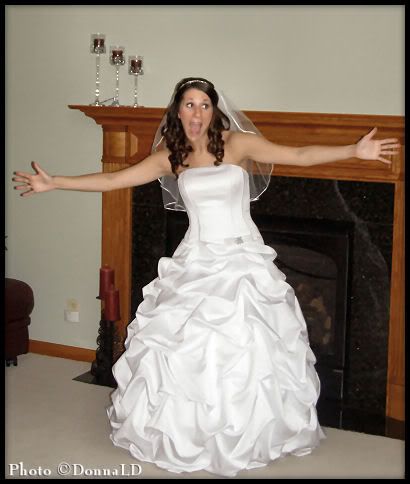 The day was absolutely fabulous!! The Bride was beautiful as you see above. She was so ready :) The weather forecast was correct for a change. It poured! I straightened my hair, not sure why. LOL The moisture in the air just made it do whatever it wanted, that added to the fact that I never take good pictures... ::sigh:: but it's not about me, is it?
I headed over to my brother in laws house, as all the girls were there getting ready. The rain pelted my car, and my wipers were going a mile a minute. I know it's suppose to be good luck when it rains on your wedding day, but I couldn't help but look to the sky with tears in my eyes. 'Pat, she has more then enough good luck, make the rain stop now.'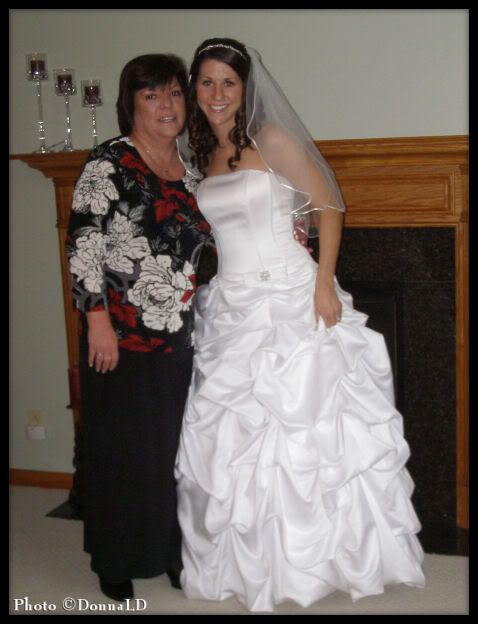 The photographer was there when I arrived and he had gotten some awesome shots of the bride and the girls getting ready. He grabbed me to get a shot. My niece (sister of the bride) took one with my camera. She looks fabulous... me... well....... I hate that the black from the fireplace is showing between us. I look deformed. LOL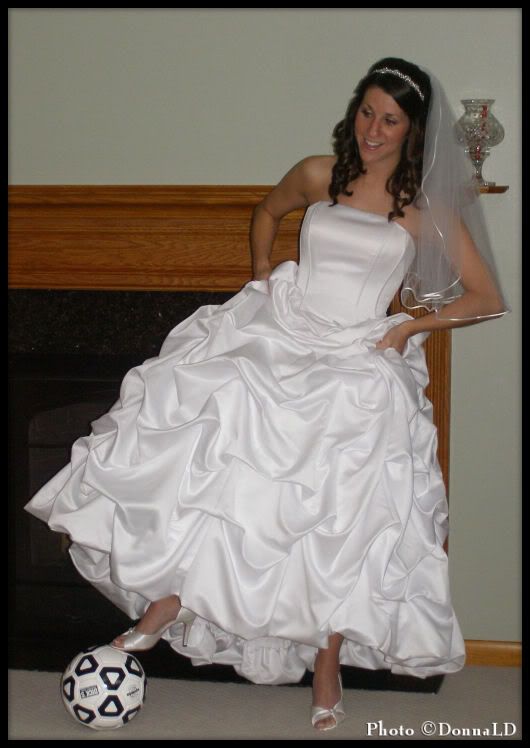 Since the bride grew up playing soccer, played for college, and still plays today. Well, she temporarily stopped because she broke her nose playing a bit ago. No more accidents until after the wedding! I bet she'll be on a team in a few weeks to play indoor. Dad couldn't let it go. He grabbed a ball and of course we thought it a hoot. Such a natural with that ball under her foot. Even in heels!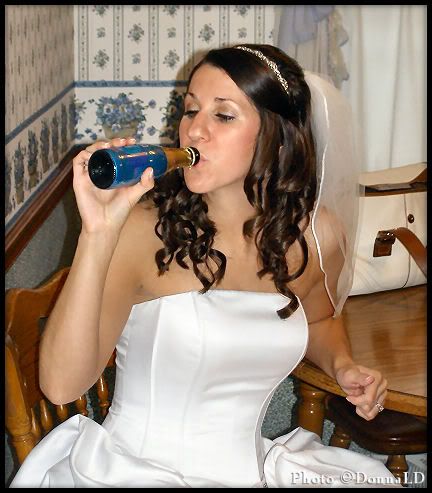 Oh, she looked calm alright. She cheated!!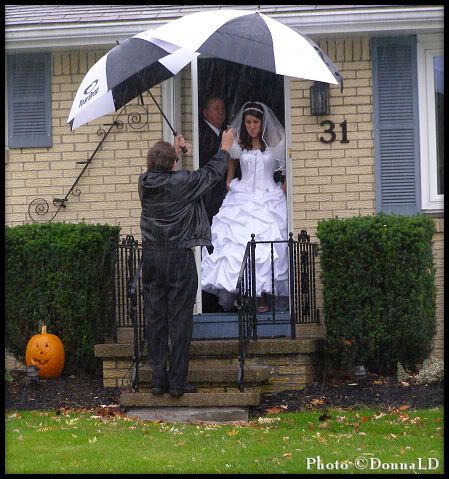 Limo arrived and it was still raining. I think that is when nerves set in. As he stood with the umbrella's to lead her to the car (limo bus), you could see a bit of a pout. I was across the street in my car and I could see it.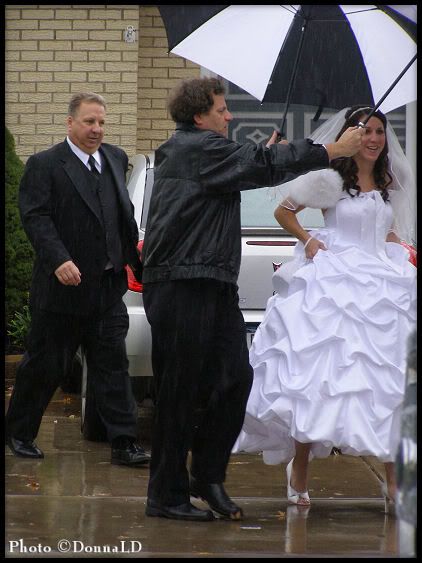 It wasn't all pouts. The smile comes out as she walks fast to get under cover. Dad... what a trooper following along.
Look at the smile as he sees his beautiful bride make an entrance! Even now I get teary eyed. He's such a great guy and I am so happy for the both of them and even prouder to welcome him to the family!
Dad and his baby. Someone should have shut the wooden doors after they made their way down the aisle. Ahhh but we make do, don't we?
I don't think I have to explain........... do I?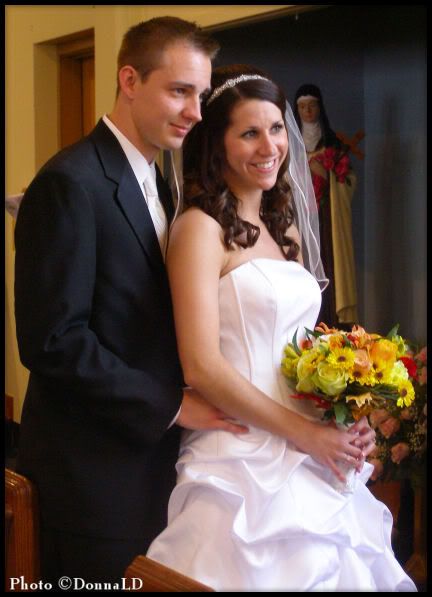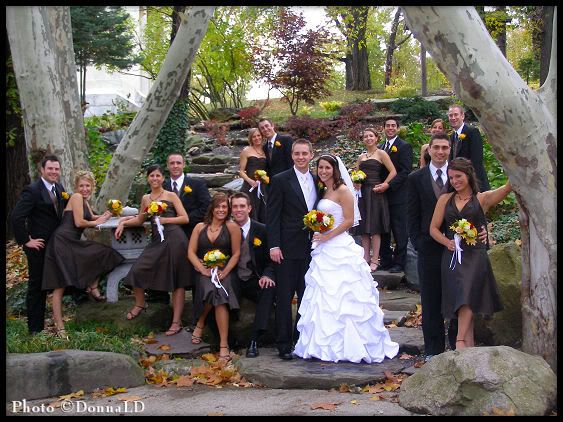 When we walked out of church the sun was out. We could see blue sky between the clouds. Instead of going to the falls to take pictures it was decided to go the historical society. There we had the option of outside or under cover. Just in case the rains came back. We did luck out and the rains held off so we could get some pictures. She really wanted to the fall back drop.
As you know from the bridal shower pictures she had a big wedding party. The girls all wore the same skirt, but she gave them the option on the top. I think the mix adds a nice touch.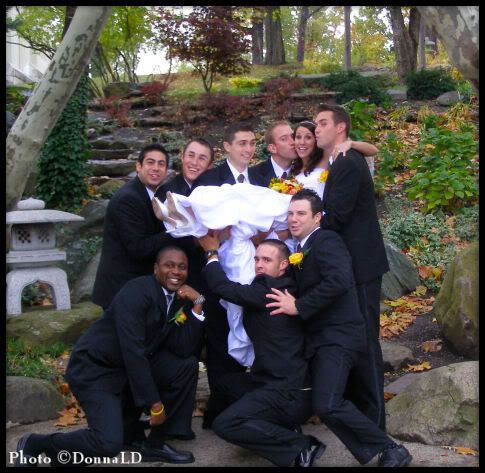 :::Giggle::: These guys are in heaven!!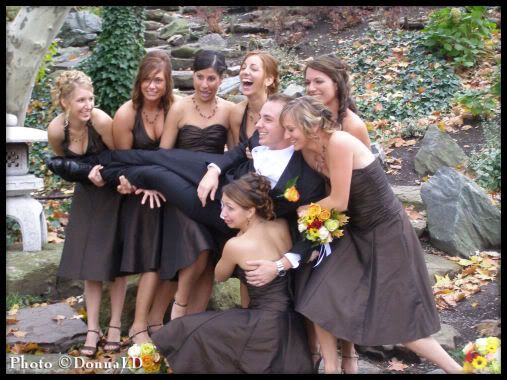 And so is this one!!! Sorry Li (brides sister)... had to add this. Your facial expression is priceless!
I have a ton more and will be doing another entry of just pictures. I think they'll speak for themselves. The reception was a blast. The wedding party was introduced while songs of their choice played. They put a little dance skit on. I was in tears laughing. No pictures, they moved way to fast for my camera but I know there will be video so she can relive it whenever she wants.