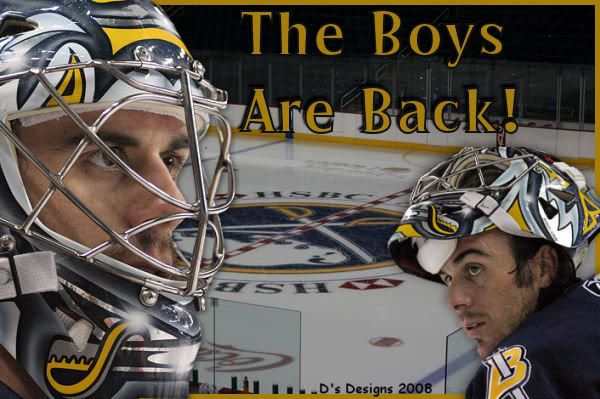 The boys opened the 2008-2009 season last night. They played the team that the experts are expecting to come out as the champs of the East. Ok, yeap the Hab's are good. Very good. But lets play a few games before we start making predictions.
The boys didn't do so great last season. They started slow and there were distractions and injuries through out. No excuses, facts. Anyway I figured game one, against the predicted best. Good way to see where we stand.
Three minutes or so in the Hab's scored. It was about 5 minutes later and we tied it up. The first period ended tied 1-1. The second period started. Lots of hits and close calls but the period ended still tied at 1. The third, more of the same. Some might think that is a boring game, but it was not. Excitement as both teams rushed to the goals only to be foiled by the goaltender. Regulation ended tied 1-1. In to overtime they went. Four on four for five minutes. Both goalies stood tall.
Ohhhhhh no a shoot out. I love the shootout, but last year we lost way too many games that way. It proved to be our Achilles heel. Since we were the home team we got to chose, shoot first or let the Hab's. Ruff's choice was we'd go first. Ales Kotalik goes in fakes the forehand and goes to the backhand beating Price over the shoulder, up high where momma hides the cookies! Montreal's turn. Robert Lang, tries to go wide on Ryan Miller. Miller stretches the leg out and makes the save. Drew Stafford for Buffalo. Follows Ales' lead and does the exact same thing, with the exact same result. Now it's Montreal's turn again. They have to score or it's over. Saku Koivu goes in on Miller, he deaks and dunks. Not sure if he lost the puck or if Miller poked it away. Either way, game over. The boys come out on top, 2-1. They only count one goal from the shootout. YEAH BABY! Start out with a win and go up from there. We play again on Monday... NY on the Island... let's go Buffalo!