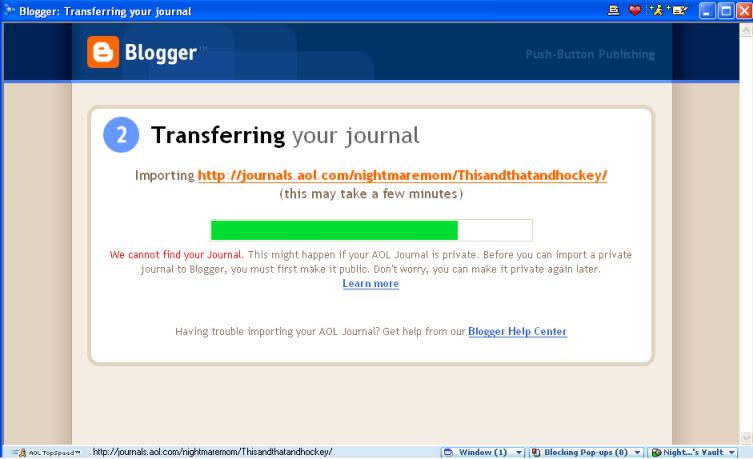 Some may call me stubborn, others stupid, but I didn't give up on transferring my journal. This morning I cleared my cache, history, footprints and started my download. To my amazement it was moving rather well. I was actually thinking maybe someone saw my entries recently and figured they'd stop f'in with me.
The closer I got to the halfway point the more nervous I got. I started to hold my breath, but low and behold it kept going. I could feel the excitement in my finger tips, in my toes. I think the hair on the back of my neck started to stand on end. It's going to do it. OMG! I sat and watched as the entries got closer and closer to the beginning. Then in a flash. POOF! I get this message. What??? Cannot find my journal? You've been transfering. Those were my entries going by. What do you mean you can't find it now????? WTH!?! I thought I was going to throw something, and preferably not my computer. I tried and tried again and again, but never did I get to the 50% mark again. I emailed the screen shot to Vish to see if she could shed some light. How can it go that far and then not find my journal? GRRRRRRRRRRR
Today was spent trying to migrate as I watched football. The Bills are on a bye this week so we didn't have a game. It seemed to be an exciting weekend tho. So many teams coming back for the win in the last seconds of the game. Then it was Dallas and Arizona. Dallas scored 10 points in the dying minutes to tie it up and go to overtime. I thought for sure they would add to the last second heroics. It was not to be. They won the toss and then did squat. Romo looked like he was a nervous wreck. He is either exceptional or suspect. Today, suspect. The Cardinals held them to 3 and out. The 'boys have to punt. They are deep in their own zone. BLOCKED and they Card's go in for the winning touchdown. Unreal!!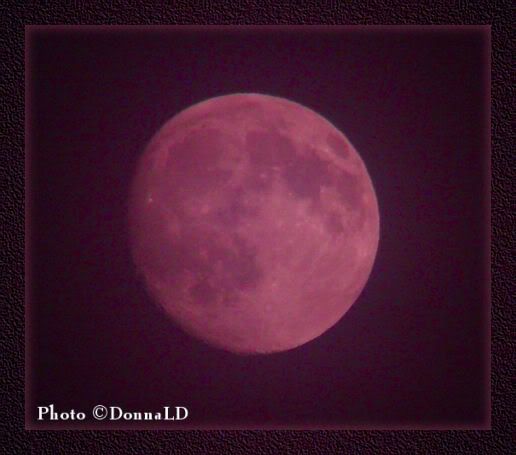 During the game they must have played 100 Tim Horton commercials. I was dying for a doughnut... LOL So off I went to get some. Silly me.. so bad.... so good. On the way home it was getting dark, but the sun off in a distance, as it fell below the horizon, threw a purple cast thru the sky. The moon looked fake as it hung above my house. I had to get a picture. The color really isn't doing it justice, but surely you can see the purple haze. Hmmmmm is that a song or something?
Well... I do hope all had a great weekend. Hard to believe it's back to work tomorrow. GRRRRRR Have I ever told you I hate Monday's? Off to do some tag requests.