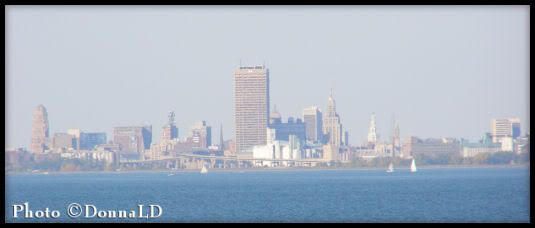 Aaahhhh this one is a bit clearer then others I've gotten from the same spot. I am actually about 25 or so miles from the city. I like this spot, and keep hoping for a clear day so I can get a really good shot. I hardly time it correctly. I'm about 20 miles in the other direction from this spot, so tho it may appear clear at my house it hasn't been when I got there.
I went out today to clear my head. This whole migration thing has given me a horrid view. AOL doesn't seem to really care. Yes, I know some have migrated with no issues at all. Some have had issues but after countless times it worked. Me, I've not been so lucky. AOL and Blogger both have tried a few times over 3 days and they are not successful at all. They tell me they are working on it.
I've lost faith. I've been lied to by AOL many times. In the past I watched as folks had their journals disappear and they were told there was nothing that could be done to restore them. Others deleted in error and they got the same answer. But low and behold, now they have restored both journals and comments successfully. How ironic. I'm not sure of time frames here so don't go asking if they can restore yours too.
They are in need of looking like hero's for their short comings in screwing us as well as not taking the time to test larger journals to see if the migration would in fact work. With the number that went over they feel all warm and comfy with the results and surely will give us that it didn't work for empathy but in my head and heart that isn't good enough. I've gone to bloggers help message board and there are more issues and questions there then answers. Hell, I'm not even sure anyone is checking. :::sigh::: I know there are still a few days, but the view from where I'm sitting isn't as pretty as the picture above.
I appreciate all the suggestions, help, ideas, and support. I will let you know that I've taken the entry from Nov 7, 2007 and all 163 comments and saved them into a word document. Your support, love, and prayers for me during the illness and death of my sister remains a part of me. Reminds me exactly what the community is. It's not a place it's the people! Thank you!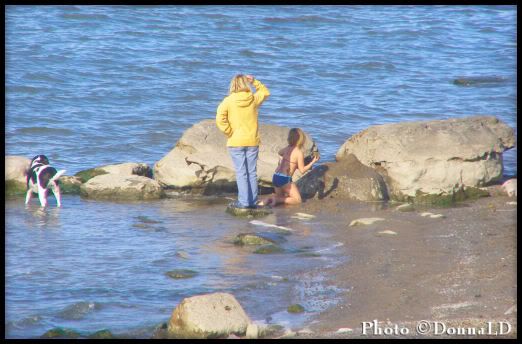 While I was taking pictures I saw this. Anyone see anything wrong? That little girl has a swimsuit on. Yes she did go in the water too. I know how kids can be, but a simple no would suffice. It surely wasn't that warm out. The lady with her has a sweatshirt on!!!
Brings me to my next point. Something's wrong. I am not trying to cause mass hysteria, but I've not gotten an answer either which makes me wonder. How much room do we actually have here? If my journal is too large to bring over what do we actually get here? Will we hit a certain point and have to start yet another journal? Do all the graphics we post that are stored on photobucket get counted towards that size/limit? That has me a bit worried. I do a lot of graphics... and what.. I can get a few entries before I run out of space? Do I need to remove pictures in the archive to get added space? Why won't anyone answer that?
I'm done bitching, moaning, and groaning. The count down is on I guess... will they or won't they figure out the issues with my migration and so many others or will our journals just slip into the black hole of AOL. Just remember none of you will go into that black hole. You've become very special to me.