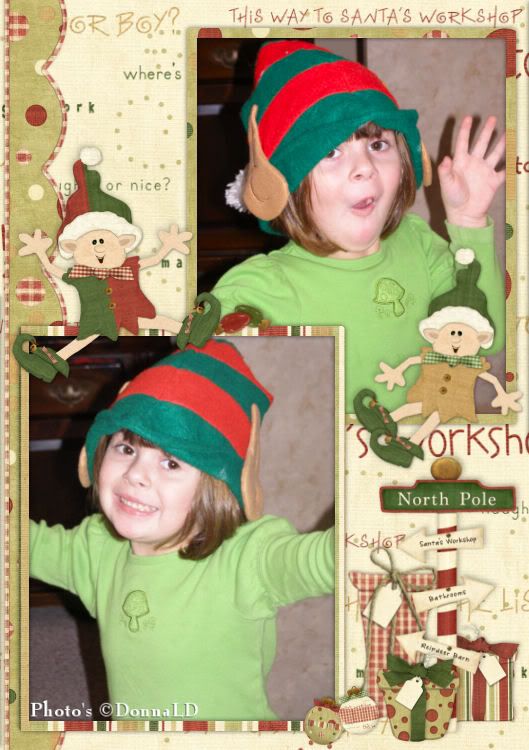 My niece stopped over Sunday and picked me up to take me to her Mom's (my sister's). Yeap, still not allowed to drive :( Eight weeks is next week so keep your fingers crossed. They were making Christmas cookies and preparing to watch the Buffalo Bills blow yet another game. Good gaawd maybe I jinxed them way back when they were 4-0. Either way they've laid a huge egg and now are the laughing stock of the league... ok maybe not that bad but....... Sunday was fun. Both Gage and Bug were having fun being in the Christmas spirit. Bug, once again had to check on me several times to make sure I was ok. I do think once I pulled out the camera she let out a sigh of relief. 'Aunt Donna is back.' LOL
I went to bed last night as the snow fell. They were calling for a rough drive this morning. I was thrilled I didn't have to get up for work and my sister prayed for a snow day. It's not just the kids that hope for schools to be closed because of the weather. She wasn't that lucky. There is snow out there and they are stating now that the temps went up we could get freezing rain. We'll see. Just need to make sure I get to the hospital as planned.
::sigh:: speaking of the hospital. I am scared to death. I know I've been through some tough things and this should be the easy part, but trust me I am still nervous and scared. So many things go through your head. I was feeling very confident that I'd be home tonight, but a visit to my primary doctor yesterday said otherwise. I had to visit him to get clearance after all my tests. He didn't want me thinking I'd be home and then be disappointed if I wasn't. He didn't feel it would be the procedure itself. He thinks that will be fine and will fix the issues with my foot. He just feels that since I'm not having it done until 3 in the afternoon they may keep me overnight. I guess going in thinking that is probably better. Does make me feel better or make me happy, but I'm preparing for the stay. If you don't hear from me later give me a day or so......
I do hope this works. I'm in some pain and it is extremely uncomfortable. No position is good. Laying, sitting, standing. I can't do any for any length of time. Sitting at the computer can be brutal. I've tried to stay current with entries but it never seems to be possible to sit and read all... forgive me. With any luck at all this will fix the issues and allow me to sleep an night without constantly waking up and having to get up to'walk it off.' Hopefully I can walk without a limp and actually get some much needed exercise in. Taking a few steps and then having a pain and tired feeling in my leg is frustrating as all get out. I feel like I'm carrying a good 70 pounds of dead weight. Sitting, feet up or feet down, not happening. My foot and lower leg throb within minutes. I pray this works.
Well, off to get a shower and pack a bag. I do hope I'm home this evening but if you don't hear from me expect an update tomorrow. My sister has been blogging and she may update, not real sure but you could stop by anyway :::giggle:::
Hugs to you all and again thank your for your friendship, love and support. The prayers and good vibes are also so appreciated.