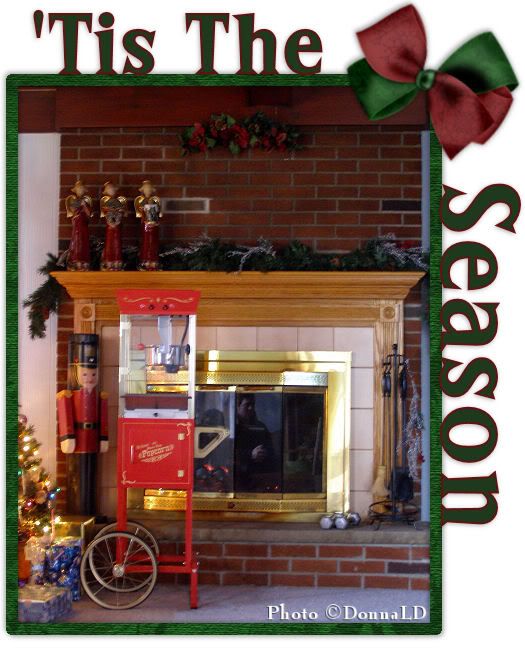 'Tis the season of crazy weather, busy days and nights, tons of food, and smiles all over the place. My family must have been good this year. We met up at my parents on Christmas Eve. A ton of food to be shared, laughs, and hugs. We were even visited by Santa. We must have been good!!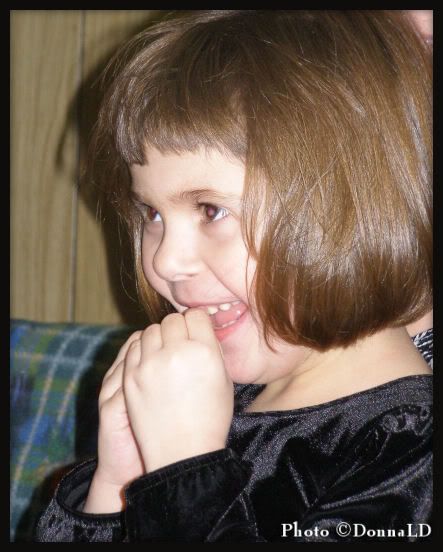 Our own little 'bug' watching as Santa made his entry. Not real sure what to make of it, but the glint in her eye and the smile on her face says it all. Such innocence in a childs face.
She did eventually warm up to him and sat on his lap with her brother. Not sure if her brother urged her more or if she realized this man in the red suit just brought her presents and it's the least she could do to say thank you.
Me? I had no problem sitting on Santa's lap. I wanted to have him bring all the gifts I asked for to my house. Ok, so I already got the best gift of all, so I wanted to thank him for that. I think I might have that same glint that 'bug' had.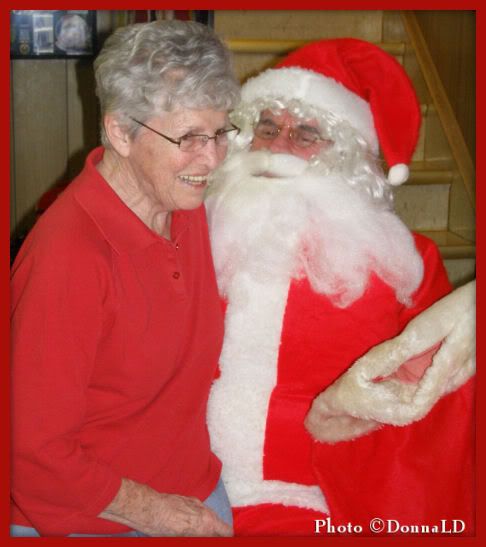 It wouldn't be right if Great Grandma didn't sit on his lap. It is her house and we couldn't leave her out. I'm not real sure what Santa said or did, but I'm not sure if that is the same glint, or what that smile is telling us. LMAO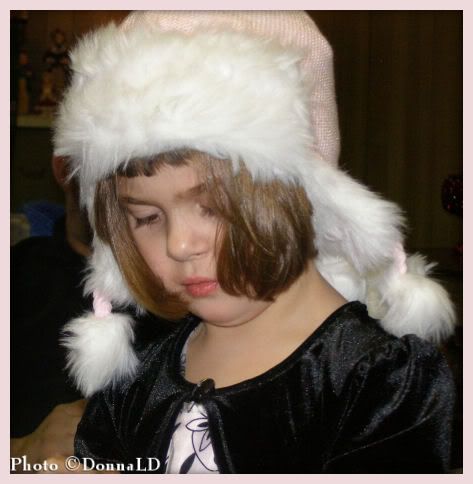 The kids made out like bandits, opening one gift after another. Bug made sure she put her new hat on and then went direct to the next gift. She did stop long enough to smile and shout out a thank you to the giver, Gage did as well
.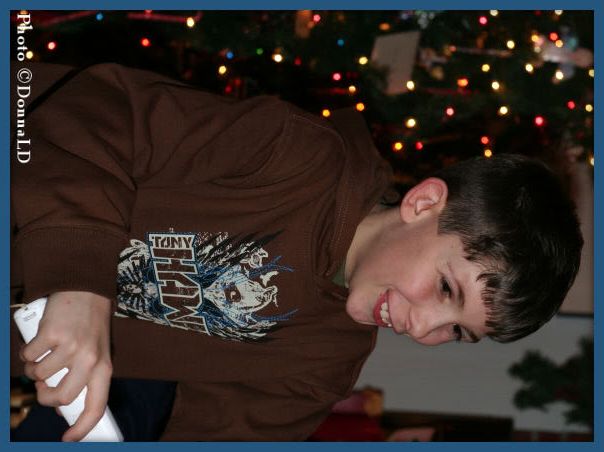 Christmas morning my son and his girlfriend, along with my sister's boys came here. We exchanged our gifts and had a huge breakfast. My son got me a new printer and hooked it up. I got a foot massager, clothes, and a couple new purses. I needed something bigger so I could take my diabetes supplies if I need to. No way no how the tester and insulin pen would fit in my current one.
Our kids made out like bandits as well. LOL 'Tis the season to spoil them a bit I suppose. We had breakfast and dinner here and then went to my sisters for dessert and coffee. Gage did get Wii and had a few new games so he brought them with him to his Grandma's. Look at that smile as he plays one of the games.
All in all the two days have been great. Lots of fun, smiles, good food, friends and family. I've not gotten around to many journals as it's just been crazy. I do hope everyone had a great Christmas (or whatever holiday you may celebrate). It's hard to believe 2008 is ending and a new year is fast approaching.