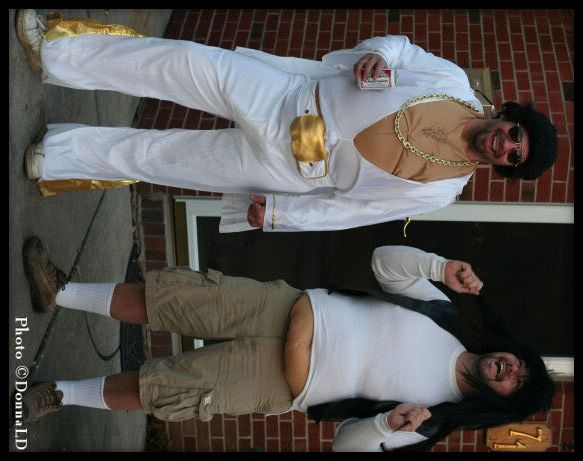 And you thought I was kidding when I said I saw Elvis. You thought it was the pain pills, or the drugs while I was in surgery. Nope. He appeared along with Hillbilly Jeff. LMAO Tell me these guys don't look like they are having a riot!?!
I was actually working on these pictures when my indigestion started. Now we all know it was not indigestion at all and since I'm now at my house I had access to them so I wanted to post them. Sorry for the flash back.
Bug and Gage with Hillbilly Jeff. I can't help but crack up each time I see him. That fake belly and the long hair. Just too much fun. I love the kids costumes too!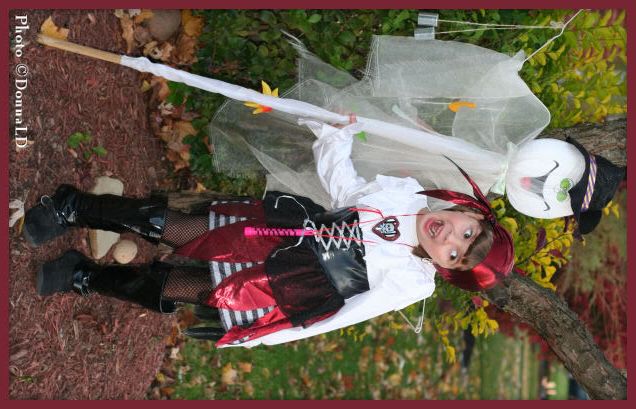 Bug posing with one of Grandma's decorations. I can't remember for the life of me what she is doing or saying. Maybe talking to her Mom who is also taking pictures. My co-worker had given me his camera again to test out. I have also have the software to get the pictures off the camera and on to my computer. I actually used the 'new' camera and my niece used my old one.
I did notice a difference but have not used it again since. Below the first picture is with my old camera taken by my niece. Virtually at the same time the other one is taken by me with the 'new' one. Hopefully I will start gaining more strength and I will be able to try the camera a few more times to see what I come up with. Like I said, I notice a difference, do you?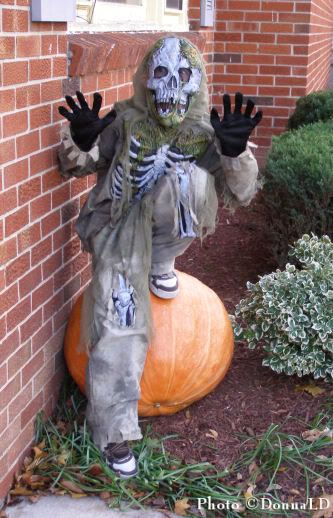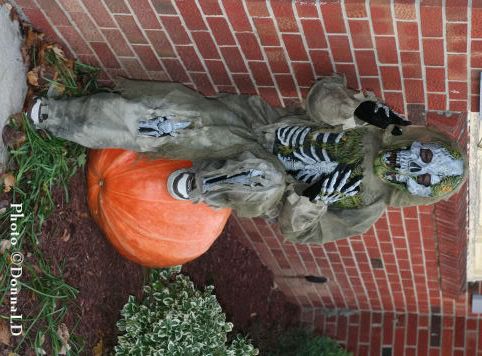 I won't bore you with a bunch of Halloween pictures, but it just wouldn't be right if I didn't post a couple :)
As you can tell I am feeling a bit better but no where near to being normal. LOL Like I said earlier I have the
Dr. snowed
. I love being home as I am not as bored when I have some energy. It's also good to force me to do a bit for myself. No worries I won't do to much. My parents are wonderful and took great care of me. My younger sister waited on me hand and foot. Up to and including putting my wonderful stockings on each day and taking them off and washing them each night. Thanks Nanc!
I again want to thank everyone for their kindness, concern, and prayers. I will be getting to more blogs as the days wear on. Thanks for being so understanding.